GIRD has been undertaking a campaign and action programme all over the country for promoting environment-friendly green buildings.  Through these campaigns we have been above to change people's mindsets about their ideas and ideals in building homes and to encourage practices conducive for energy-efficiency and saving of precious natural resources.
GIRD conducted a National Seminar on "Sustainable Home Ecologies – Assessing Strengths and Mainstreaming of Green Buildings" (28th March 2009 at JNU, New Delhi).
The Seminar was inaugurated by Shri N. Balagopal, well-known NGO activist and Member, Steering Committee on Voluntary Sector, Planning Commission of India and was attended by about  150 delegates from different parts of India.  In his inaugural address, he stressed the need for making concerted efforts in saving our energy sources and finding alternative sources of renewable energy in the place of fossil fuel sources of energy for which we largely depend on the outside world.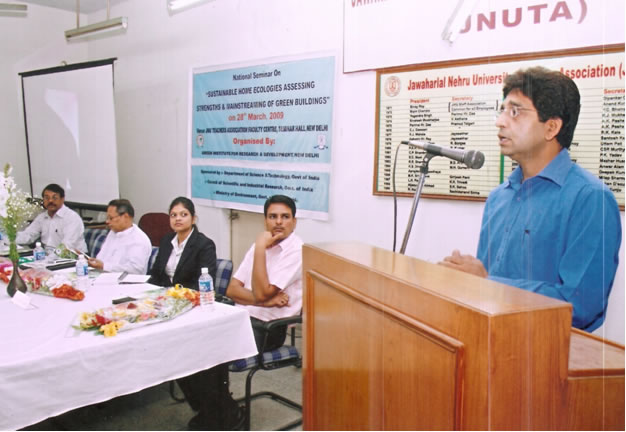 The Key-note address by Shamsuddeen AK, Secretary, GIRD, emphasized that the primary concern of the seminar is finding ways of mainstreaming the concept of environmental – friendly methods of building homes through effecting, through educational campaigns, a change in mind- set of the people in general. It is necessary that some notions being created among the general public about the initial high cost of construction need to be dispelled in case of individual homes.  In the case of bulk of our population what matters most is reduction of cost in realizing the dream of a house. The key- note reminded that Green building concepts is part of our national heritage as harmononisation with nature is emphasized in the ethical and philosophical traditions in India.
Delegates of the Seminar emphatically iterated that energy conservation and rational utilization of energy sources in the building sector will have immense benefits for the progress of the country and for sustaining our national wealth for future generations.