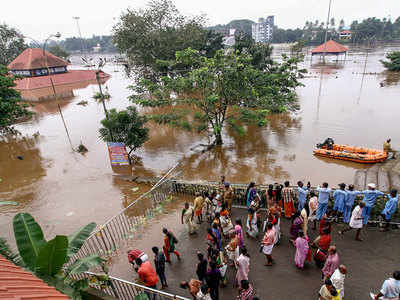 Rain Gods seems to have been unkind to the people the God's Own County, as the State of Kerala in the southern India is often called. Heavy torrential rains devastated most parts of the State. Kerala is a State in India which usually receives abundance of rains. But this year, the amount of rainfall were about 200 to 300 percent more than the average in different parts of the State.
Rains caused submerging of entire towns and villages lying along all the major rivers of the State. The ferocity of the floods were increased due to the opening of about 35 dams which became full and threatened to burst.
Rains also caused heavy landslides in the hilly eastern parts of the State. More than 500 people lost their lives in the landslides and floods. More than 10 Lakhs of people had to be evacuated to temporary relief camps as their houses were submerged in flood waters. These people have lost all their belongings. Their hard earned properties were damaged. The standing crops were destroyed. Domestic animals and birds were dead. The total loss due to the floods is estimated to be around Rupee 25,000 crores.
Large numbers of people are still in relief camps as their houses are yet to be full retrieved from flood waters or to be repaired to be made live-able.
It is a very difficult situation for the people of Kerala and also the Government of Kerala, which has appealed for all kinds of help from people all over the world.
"Thousands of families have become homeless or temporary homeless as large numbers of houses were either completely destroyed or severely damaged during floods. They need either reconstruction or repairs, including damaged electricity connections, plumping works, etc.
An estimated 57000 hectares of agricultural crops have been destroyed in the floods. These farmers have to be compensated and helped in regenerating their crops afresh.
3.64 lakhs of dead-bodies of birds and 17000 carcasses of big animals, mostly livestock animals, have been found and buried after the floods.
All these losses to the people need to be reversed faster for restoring their normal lives.
The effect of these losses are severe for the people who are in poor circumstances such as the people who depend on daily labour, farming or live-stock rearing.
Large numbers of school buildings and primary healthcare centreshave also collapsed or damaged. These buildings also need urgent rebuilding and repair to bring these public services back into operation.
In view of the magnitude of the destruction caused by the floods, the Government of Kerala has appealed for Help and Assistance from all over the world
Accordingly, Green Institute for Research & Development is contributing to the efforts for rebuilding of houses and assets and restoration of agricultural and live-stock rearing activities of the people KERALA NEEDS YOUR SUPPORT
We pray for your donations/contributions
to
Rebuild houses of poorer sections of people who have lost their houses or whose houses have been damaged severely
Help reclaim the fertility of agricultural land
Help restore farming and live-stock rearing activities of the affected people by supplying seeds, stalks, domestic birds and live-stock.
Rebuild damaged school buildings, primary healthcare centers, etc."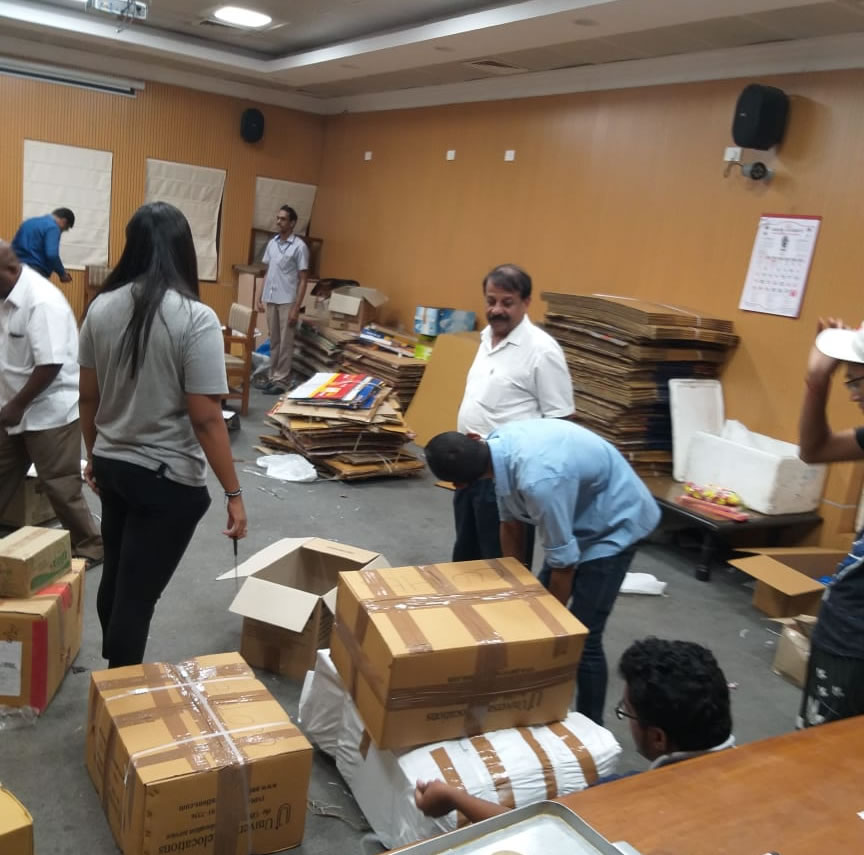 "Relief materials for Kerala flood victims are collected and packed in in Kerala House, Delhi. Shri S. Syam Kumar Jt. Secretary to Kerala State & Director, NORKA (Kerala State), Shri. Shamsuddeen AK, Secretary and Shri K.J. Josemon, Treasurer, Green Institute for Research & Development(GIRD) are coordinating the efforts along with College Students and Staff of Kerala House."
"Initially,on 19th and 20th August 2018 4 tons of relief materials were airlifted to Trivandrum for delivery to the affected districts in southern Kerala. From 21st to 27th, 500 tons of materials were transported by train in 24 vagons to different parts of Kerala. From 28th onwards, material were reached to Palakkad for delivery to relief camps and affected people in north Kerala districts, which include Malabar area."
Images of flood situation in Kerala